Kyungpook National University,
'Environmentally Friendly Nanoparticles' Technology Transfer to AbtironBio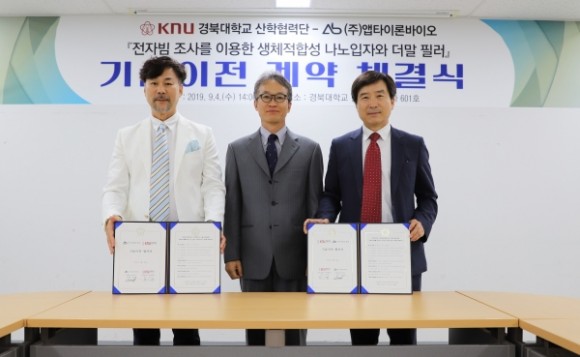 Kyungpook National University (CEO Sang-dong Kim) will transfer technology of eco-friendly nanoparticles, which has been studied by professor Yoo Jung-soo, to Abtiron Bio, and signed a technology transfer agreement at Kyungpook University Global Plaza on the 4th.
Eco-friendly nanoparticles without side effects is a technology that makes nanoparticles from biocompatible polymer materials such as hyaluronic acid and dextran through electron beam irradiation. Prof. Yoo Jung-soo and Abtiron Bio Co., Ltd. plan to develop fillers, anti-adhesion agents, and cosmetics materials without side effects based on this technology transfer.
Professor Yu Jung-soo said, "We have proposed a new method for synthesizing nanogels using electron beam irradiation without the use of chemical organic solvents and crosslinking agents."
Park Young-kwang, vice chairman of Abtairon Bio, said, "We will create the world's first dermal filler without any chemical cross linker and bacterial infection, which were the biggest disadvantages of fillers".
Meanwhile, this technology transfer agreement was progressed through the KIPO's "Korea Patent Gap Fund Creation Support Project".
Copyright © University Journal All Rights Reserved.