Korea Research Institute of Chemical Technology
transfer of CAR-T immune cancer technology to AbtironBio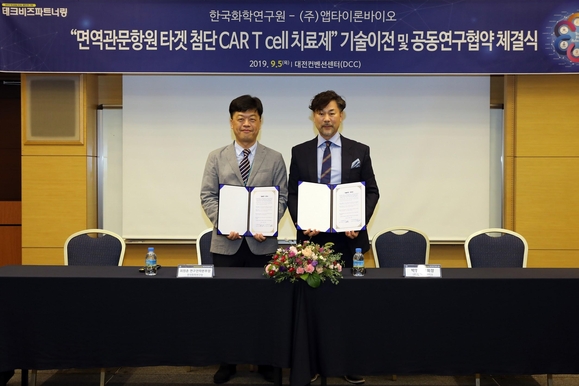 The Korea Research Institute of Chemical Technology (KRICT) recently transferred to the domestic bio company AbtironBio the immune anticancer technology using "chimeric antigen receptor T cells (CAR-T)", which is attracting attention in the global pharmaceutical market as a new anti-cancer treatment method.
CAR-T immunosuppressant is a new anti-cancer treatment technology that treats cancer using the CAR gene that recognizes immune portal proteins that are hyperactive in cancer cells. If the CAR gene is inserted into T cells that are responsible for immune function by gene editing technology, only cancer cells can be effectively attacked.
The CAR-T technology, which is owned by the Korea Chemical Association, was developed by a research team led by Dr. Park Ji-hoon of the Medical Bio Research Center. The research team has created CAR genes that can recognize herpes virus (HVEM), which is highly common in patients with melanoma.
"We will continue to actively cooperate with Apptiron Bio so that next-generation immune cancer treatment technology can be commercialized," said Kim Chang-kyun, acting president of the chemical association.
Lee Sang-hun, CEO of AbtironBio, said, "We will have infrastructure and technical skills that are one step ahead through collaborative research that can show synergy with the Korea Institute of Chemistry in developing CAR-T treatments."
The Korea Chemical Research Institute and Apptiron Bio signed a technology transfer and joint research agreement at Daejeon Convention Center on September 5. Choi Won-chun (from the left) and Park Young-kwang, vice chairman of the research and strategy division at the Korea Chemical Association. /Provided by the Korea Chemical Institute
​