Korea Research Institute of Chemical Technology Next-generation
immuno-cancer drug CAR-T technology to AbtironBio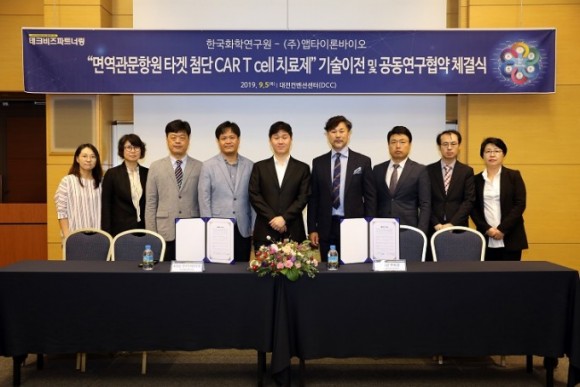 The Korea Chemical Research Institute and AbtironBio signed a technology transfer and joint research agreement at Daejeon Convention Center on Sept. 5 (Thursday). The Korea Research Institute of Chemistry has developed the "CAR (chimeric antigen receptor T Cellular Treatment) technology, which is considered the next-generation anti-cancer immune cell therapy technology, and transferred the technology to local bio-new drug company.
According to the Korea Chemical Association on Tuesday, the chemical company and the bio-enterprise AbtironBio held a "Conventional ceremony for the transfer of next-generation immune cancer treatment technology" at the Convention and Exhibition Center in Daejeon on Wednesday.
Immunocytotherapy is an anti-cancer drug that picks up and removes cancer cells exactly by recognizing the antigens of cancer cells as receptors. Among them, the CAR-T cell therapy is a therapeutic agent that designs a receptor that recognizes an antigen of cancer cells by cell engineering and inserts the gene into T cells, which are immune cells. It is recently attracting attention because of its high cancer cell recognition rate and therapeutic effect in clinical practice.
The latest technology is a CAR-T cell therapy technology developed by Park Ji-hoon, a senior researcher at the chemical bio research center. It detects and destroys cancer cells by recognizing immune portal protein among the surface proteins of cancer cells. Immune portal protein is one of the surviving weapons of cancer cells, which makes it impossible for immune cells to recognize cancer cells. It is similar to a thief carrying an eye patch that hides his eyes to escape the police. Park's team developed a CAR-T cell that recognizes the herpesvirus penetration mediator (HVEM), an immune portal protein that is commonly made in patients with melanoma, a skin cancer.
With the latest technology transfer, the Korea Chemical Association and AbtironBio have decided to jointly develop and commercialize the next-generation anti-cancer immunodeficiency cell therapy technology based on CAR-T. Lee Sang-hun, CEO of AbtironBio, said, "We will have advanced infrastructure and technical skills to develop CAR-T treatments through cooperative research with the Chemical Solidarity." "We will continue our research to solve the health of the people and cancer diseases by actively cooperating with the AbtironBio," said Kim Chang-kyun, acting president of the chemical association.